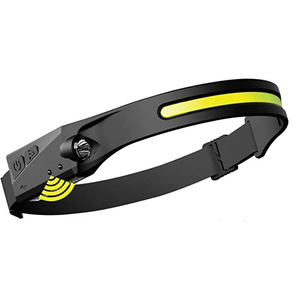 The SpaceBeam Headlamp - The Brightest Headlamp You'll Ever Own!
Regular price $79.99 $49.99 Sale
The Spacebeam headlamp is the perfect light for all of your hands-free illumination needs. With a powerful beam that can reach up to 300 meters, this headlamp will light up even the darkest paths. Its comfortable and adjustable headband allows you to wear it for long periods of time without discomfort, making it ideal for camping, hiking, and other outdoor activities. The Spacebeam headlamp also has a wide range of brightness settings, so you can adjust the beam to suit your needs. Whether you're working on a project, exploring the great outdoors, or just need a reliable light source, the Spacebeam headlamp has got you covered.
"I recently went on a camping trip and forgot to pack a flashlight. I ended up borrowing the Spacebeam headlamp from a friend and it was a game changer. The beam was super bright and I was able to see everything I needed to. It was also really comfortable to wear and I didn't even notice it on my head after a while. I'll definitely be packing the Spacebeam headlamp on all of my future camping trips." - Jacob R
"I'm an avid runner and I love to run at night to avoid the heat. The Spacebeam headlamp has been my go-to light source for night runs. It's super lightweight and I barely notice it on my head. The beam is also super bright and I feel safe and seen on the road. I've even had drivers comment on how bright it is and how they can see me from far away. I highly recommend the Spacebeam headlamp to any runners or outdoor enthusiasts." - Lisa Trillo